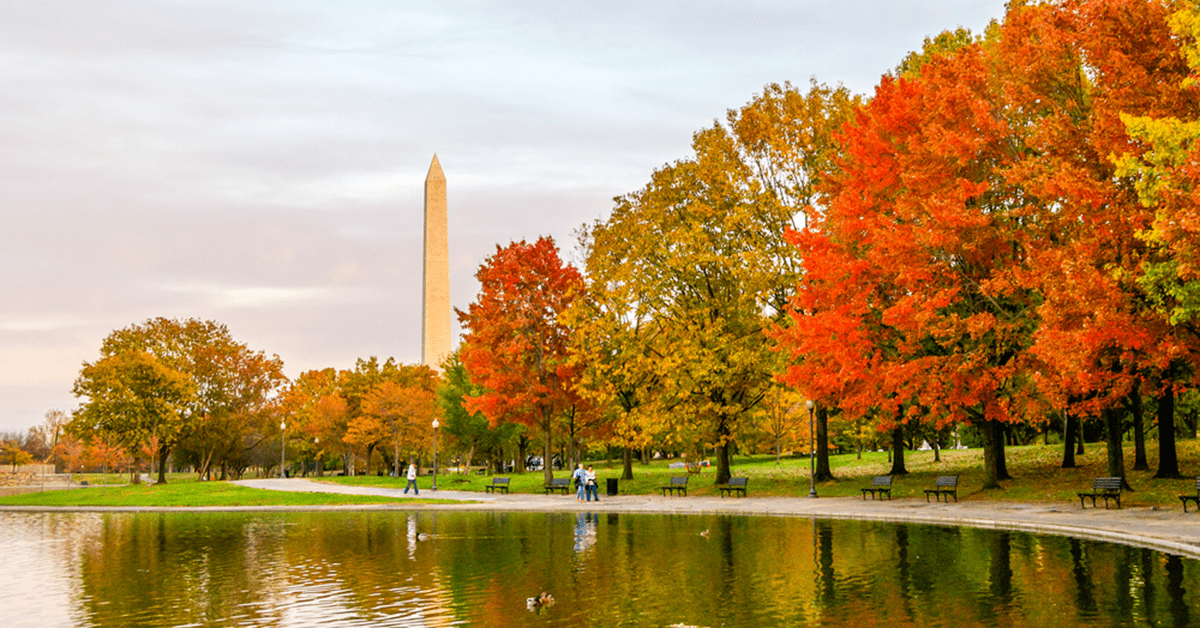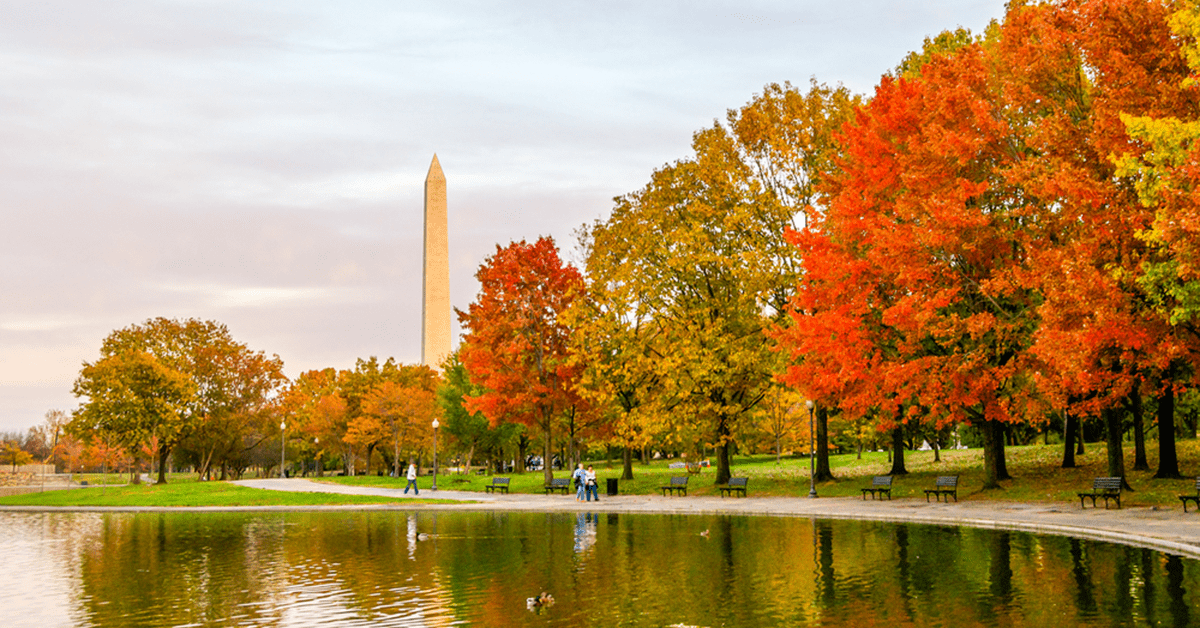 Plan a mix of virtual and safe, in-person activities for the first month of fall in Washington, DC
As you continue to practice social distancing and DC gradually reopens, we've gathered up some things to do this September, including safe in-person activities and virtual events. You can also check out tons of on-demand virtual museum tours, neighborhood tours, TV and movies streaming ideas with a DC bent, DC-inspired music playlists and Washington, DC Zoom meeting backgrounds. Be sure to read our things to do during the week and weekend and check up on what's open around the city as well.
Park Up DC – Through Oct. 31
Now would be an ideal time to enjoy a drive-in movie, right? Events DC and Broccoli City have teamed up to bring you this pop-up event at RFK Campus Lot 5 through Oct. 31. Screenings take place on Thursdays, Fridays, Saturdays and Sundays. Enjoy a 45-foot HD LED digital screen and pre-paid delivery food from local food trucks. The event follows all social distancing guidelines, including the necessity of facial coverings – make sure to visit the event's FAQ page for full clarity on the policies. Peruse the movie lineup and purchase your tickets online – each evening features multiple showings. Note that double features are encouraged and you will not be required to leave your designated 15 ft. x 20 ft. parking space in between screenings.
More Info |  Tickets
Screenings begin at 7 p.m.
RFK Campus Lot 5
Commemorate the Women's Suffrage Centennial
This year marks the centennial of the ratification of the 19th Amendment, a monumental piece of legislation that extended the right to vote to women for the first time. Although another 45 years would pass before the Voting Rights Act of 1965, which protected voters against racial discrimination, the 19th Amendment represents a successful movement that led to historic change. There are a number of ways to commemorate the centennial milestone: Follow the #19SuffrageStories experience on social, a joint campaign by the Smithsonian, Library of Congress and National Archives with snappy GIFs and history posts; listen to the U.S. Capitol Votes for Women Tour podcast (until you can take the tour again); walk by the former headquarters of the National Women's Party at the Belmont-Paul Women's Equality National Monument on Capitol Hill; explore Shall Not Be Denied: Women Fight for the Vote virtually, a Library of Congress exhibition; and last and most importantly: vote.
AP x Delikatessen
All-Purpose Shaw has diversified its portfolio by opening up a Jewish deli. The pop-up is open from 10 a.m. – 3 p.m., every Friday, Saturday and Sunday. Chef Mike Friedman has crafted a delicious menu that features bagel platters with house-cured lox, bagel sandwiches, deli classics (think a Reuben and tuna melt), latkes, black and white cookies, Brooklyn Egg Creams and much more. Meals are available for pre-order and can be picked up as early as 8 a.m.
Pop-up: 10 a.m. – 3 p.m., Friday-Sunday |  Pick-up available beginning at 8 a.m. |  Order
Arts Across America Video Series
The John F. Kennedy Center for the Performing Arts has launched a new (and free) video series, Arts Across America. The 20-week digital series showcases more than 200 artists in total from every U.S. state and territory. These artists fulfill leadership roles in their communities and use their platform to advocate for social justice. Check out the series' dedicated web page for upcoming performances. Tuesdays focus on Mid-America and the Midwest.
Weekdays from 4-5 p.m. |  More Info
Live from the Mansion
This virtual concert series brings live music and insightful conversation together in The Mansion at Strathmore every Wednesday night. Each week features live performances by DC artists across a variety of genres from Strathmore's renowned Artist in Residence program. This week, Cecily will perform her throwback take on soul, jazz and R&B with Drew Kid accompanying her on keyboards.
7:30 p.m.​ on Facebook Live
Take a Big Bus Tour
The famous hop-on, hop-off tours of the National Mall from Big Bus Tours are officially back. Safety measures include socially distanced seating, sanitizing stations, contact-less payment and open-top seating. Get advance tickets and download the Big Bus app for real-time bus data, then get ready for an essential DC experience.
Enjoy a journey through the O Museum in The Mansion
One of the most fascinating locations in the District, the O Museum in The Mansion, is open for socially distanced, masked visits with online reservations required. Choose from an array of tours, including treasure hunts, food-and-beverage-themed and much, much more. We dare you to try and discover every secret door in the place. The venue's outdoor garden is open for reservations as well.
Tour appointments available from 11 a.m. – 3 p.m. daily |  Reserve
Visit Hirshhorn's Sculpture Garden
The wait is over! The Hirshhorn has reopened its incomparable Sculpture Garden, a gorgeous outdoor hub for breathtaking and thought-provoking art. Make sure to read up on the new health and safety measures in place before planning your trip and note that capacity is limited. Once you arrive, you'll want to gaze at two monumental new sculptures: We Come in Peace by Huma Bhabha and DOUBLE CANDLE by Sterling Ruby.
10 a.m. – 4:30 p.m. |  Free admission
Hirshhorn Museum and Sculpture Garden, Independence Avenue and 7th Street NW, Washington, DC 20560
Welcome Back to the Zoo
The Smithsonian's National Zoo has opened its doors with new safety guidelines in place. There are two options for passes to the zoo: a free timed entry pass or a paid parking pass. All passes to get into the zoo must be reserved online beforehand, and the last entry time to the zoo is 3 p.m. Some of the exhibits will be closed for the safety of the visitors, staff and animals. The zoo is currently opening up to a maximum of 5,000 visitors per day. On Aug. 21, the Smithsonian National Zoo's famous giant panda, Mei Xiang, gave birth to a new baby panda! You can watch the Zoo's Giant Panda Cam to see Mei Xiang care for her newborn cub throughout the day.
8 a.m. – 4 p.m. |  Tickets
Smithsonian's National Zoo, 3001 Connecticut Ave., NW Washington, DC 20008
Check out the Smithsonian's Steven F. Udvar-Hazy Center
While DC's National Air and Space Museum is closed, the Steven F. Udvar-Hazy Center in Chantilly, Va. is open during normal operating hours. Tickets must be reserved before going and masks are required for entry. Some artifacts will not be on view due to some planned construction. Food trucks are available to you and your family if you get hungry outside of the Center.
10 a.m. – 5:30 p.m. |  Tickets
Smithsonian's Steven F. Udvar-Hazy Center, 14390 Air and Space Museum Parkway, Chantilly, VA 20151